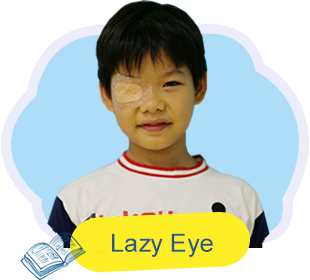 Lazy Eye
Amblyopia (Lazy eye) is the loss of the ability to see clearly through one eye and can occur of over/under using it. The eyes are like any other organs and will deteriorate due to lack of usage and may eventually lead to blindness.
The cause of Amblyopia (lazy eye) may occur from:
Children can have unequal eyesight. For example, they may have normal right eyesight and be short-sighted on the left eye at -5.00, hence they will stress on the right side to see more clearly causing the left side to develop the condition of Amblyopia (lazy eye).
Children who have Strabismus (cross eye) have difficulty aligning both eyes to see and will use only one eye at the time. In fact, some of them will only use one eye, for example, the right side and have a straight vision but the left side, however, can develop strabismus (cross eye). Consequentially, if the left eye is continuously underused, this side can then also be likely to develop a form of Amblyopia (lazy eye).
Children with eye problems one either side (left or right side), for example, their eyelids fall until eyes are closed or affected with unilateral cataract, children will tend to use the healthy side and develop Amblyopia (lazy eye) on the other side.
Amblyopia (lazy eye) can be treated by encouraging children to use their eye side with affected with those vision problems. The ophthalmologist may place a patch on the good eye and/or use eye drops in order to dim the eyesight, thus enabling the children to use the lazy eye. This will help to increase the recovery and improve the eyesight more effectively. The eye closure should be done at an early age because the treatment will be more complicated, and the results will be seen increasingly slower when they are older. Especially with the children at 9 years of age, results for recovery may not be as positive.